It's so easy and automatic that people just don't think about it. Every year, when the weather turns cold homeowners reach for household thermostats, flip a switch to turn on the heat and set the temperature. Little thought is given to whether the furnace exhaust system like the chimney and connector pipe is ready to provide safe, effective service. over 200 people across the nation are known to die each year from carbon monoxide poisoning caused by problems in the venting – out of their homes – of toxic gases produced by their heating systems. This is according to statistics compiled by the U.S. Consumer Product Safety Commission. Other agencies estimate actual numbers at between 2,000 and 4,000. In addition, around 10,000 cases of carbon monoxide-related "injuries" are diagnosed each year. Fortunately, regular chimney system inspection and maintenance can prevent poisoning incidents like these.
CAUSES OF GAS FURNACE HAZARDS:
There is a reason why carbon monoxide poisoning is still increasing. This is narrowed down into two categories.
Today's houses are more airtight. Homeowners are aware of the price of heating drafty homes and have taken steps to seal up windows, doors and other areas. Unfortunately, there is less fresh air entering into a home and not as many pathways for stale or polluted air to exit. And, when furnaces and boilers are starved of the oxygen needed to burn fuels completely, carbon monoxide is produced.
Manufacturers have designed new, high efficient heating appliances that help save money, conserve natural resources and decrease environmental pollution. However, the new class of high efficient gas and oil furnaces when vented in to existing chimney flues often do not perform at ideal levels. The differences in performance can create conditions that allow toxic gases to more effortlessly enter home living space.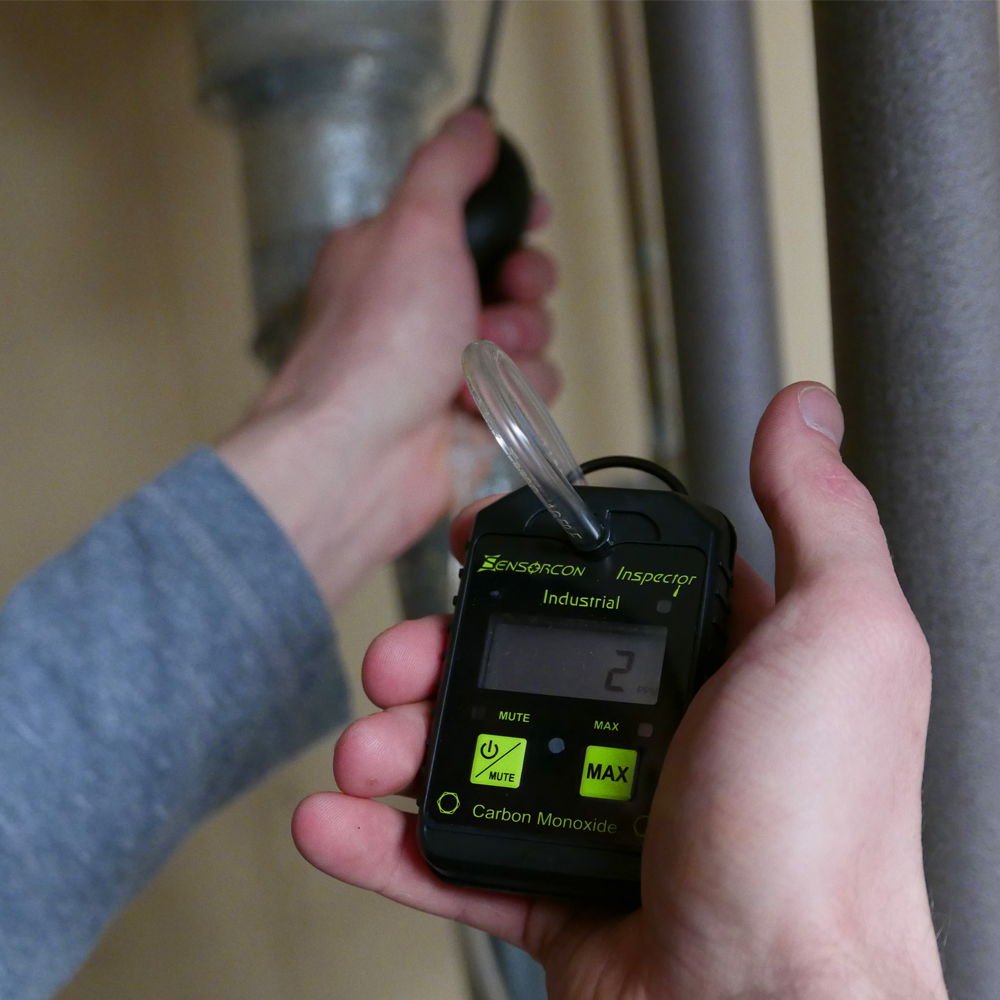 CHIMNEY & FLU UPKEEP:
In vented heating systems, specifically in those that use gas and oil to produce heat, the dangerous fumes that are by-products of the combustion process can vary from particulate matter(soot) to nitrogen dioxide. A homeowner does not want any of these pollutants to leak back into a living space. In addition to carrying off toxic gases, chimneys also create the draft that provides the proper mixture of fuel & air that is required for efficient operation of the heating appliance. Many homes throughout the country have chimneys that are improperly sized or do not perform the way they were specifically designed to.
PROBLEMS TO AVOID:
Each oil or gas furnace produce different combustion by-products due to the distinct burning characteristics that they were developed around. However, the chimneys and connector pipes that serve them share common problems. Both systems are subject to weathering, animal invasions, deterioration, rusting, and the accumulation of nest materials and debris. Regular care and maintenance is required.
Oil flues- require to be cleaned and inspected yearly because of the potential soot build up on the interior wall of the chimney liner. The amount of soot depends on the performance of the furnace and whether or not the house provides sufficient air for combustion. Problems from excessive soot buildup can be chimney fires, flue deterioration or even chimney blockages that direct toxic fumes back into the house and cause inefficient furnace operation.
Natural gas- is a clean-burning fuel, but today's high-efficient gas furnaces can create a problem. The fumes they produce are cooler and contain high levels of water vapor, which are more likely to cause condensation than older models. Since these vapors also contain chlorides picked up from house-supplied combustion air, the flues are subjected to more corrosive conditions than before.
PROBLEM PREVENTION:
In the United States, numerous agencies and organizations now recognize the importance of annual heating system inspection and maintenance in preventing carbon monoxide poisoning. The U.S. Consumer Product Safety Commission as well as many others now encourage home inspection for new home owners as well as routine maintenance of home heating systems and their chimneys in order to keep "the silent killer" as less of a threat as possible.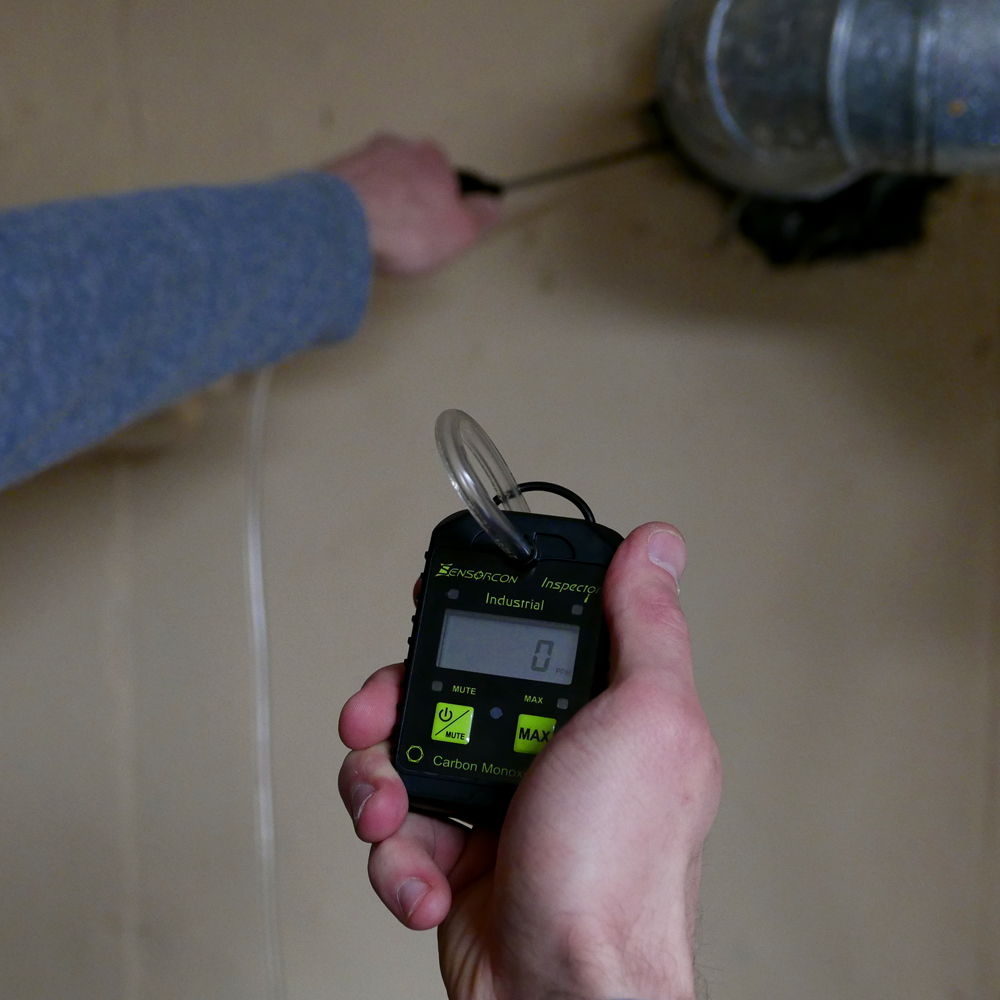 EFFICIENCY OF A WELL TUNED FURNACE:
A well-tuned furnace or boiler when properly connected to a venting system or flue that is correctly sized, structurally sound, clean and free of blockages will operate efficiently and produce a warm and comfortable home. The below points show why it is important to have an efficient, well-tuned gas furnace:
A Well-Tuned Furnace Burns Up to 10% Less Natural Gas
Provide increased comfort
Extend the life of your heating system
Give a piece of mind that you and your family is safe
Please feel free to learn more about the effects of carbon monoxide in our online support section. There you will find useful data about the facts and myths of carbon monoxide. Also feel free to reach out to us and speak with one of our cutomer service technicians for more information.
Sensorcon is dedicated to creating durable, high quality environmental sensor products to meet the most demanding of domestic, professional and industrial needs. We proudly have over 10 years of experience in sensor integration and design with all of our products manufactured in the USA. In addition to this, you can easily purchase our products directly from the Sensorcon online store.
Whether its portable single gas meters to detect carbon monoxide in your home or complex PCB and sensor integrations into industrial networks. We have the experience and capability to deliver solid and reliable environmental data wherever and whenever you need it.
CLICK HERE FOR A PDF DOWNLOAD OF THIS PAGE
FOR FURTHER INFORMATION PLEASE REFER TO OUR APPLICATION NOTES:
HOT WATER TANKS AND CARBON MONOXIDE
GAS APPLIANCES AND CARBON MONOXIDE
ALSO PLEASE REFER TO OUR INDUSTRY SPECIFIC PAGES:
For more information please contact our sales department!
Monday Through Friday - 8am to 4pm
Phone: 1-716-566-2728       E-Mail: sales@sensorcon.com      Website: www.sensorcon.com