Carbon monoxide poisoning is common in the United States with an estimated 10,000 persons seeking medical attention or missing at least 1 day of normal activity each year because of it. In any given year, numerous deaths result from the accidental exposure to this toxic gas. Studies from the Center for Disease Control indicate that there are as many as 600 deaths annually in the United States due to unintentional carbon monoxide poisoning. Drivers can be exposed to carbon monoxide from truck exhaust fumes and system leaks. Per Federal Motor Carrier Safety Administration (FMCSA) exhaust systems should discharge to the rear of the cab. No part of the exhaust system should leak or discharge forward of or directly below the driver/sleeper compartment.
Drivers should perform regular maintenance checks on their exhaust systems to make sure there are no leaks. If a leak is detected, it should be fixed before the driver's next trip. In addition to leaks from their own truck, exhaust fumes from other trucks can be dangerous to drivers. While parked at truck stops, drivers are in close proximity to other trucks that may be idling or using auxiliary power units (APUs). If drivers have their windows down while parked near idling trucks, there is a chance exhaust fumes will make their way into the cab. However, exhaust fumes can enter the interior of a vehicle even if windows and vents are closed.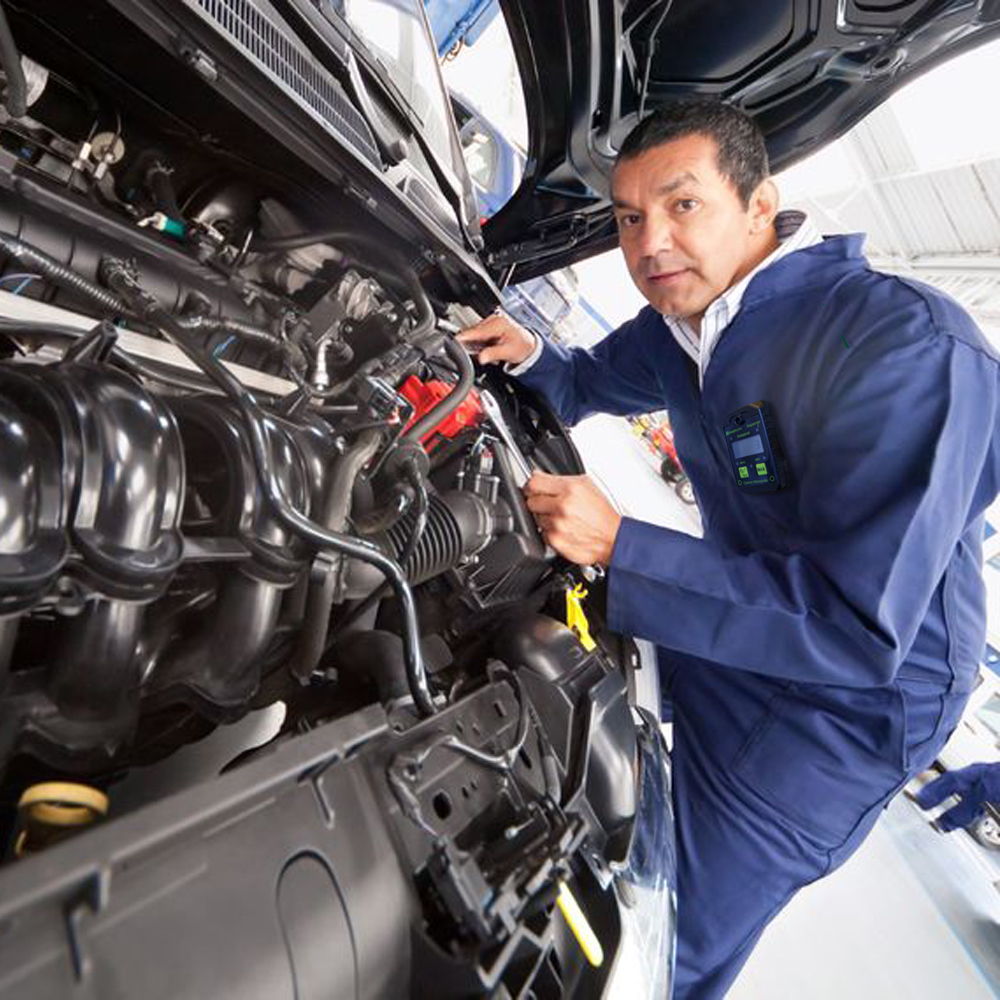 Exposure:
Carbon Monoxide (CO) is a colorless, odorless, toxic gas that is a product of incomplete combustion. Motor vehicles, heaters, and appliances that use carbon based fuels are the main sources of this poison. Most fatal unintentional carbon monoxide poisonings associated with motor vehicles are preventable and can result from these various mechanisms of exposure:
Operation of a motor vehicle with a damaged or malfunctioning exhaust system and an inadequately ventilated passenger compartment.
Operation of a motor vehicle in an enclosed space (e.g., a garage) with inadequate ventilation.
Use of auxiliary fuel-burning heaters inside the vehicle.
Preventing Exposure:
Because carbon monoxide is nearly impossible to detect, drivers may not realize they are being exposed until it's too late. These tips can help with prevention:
Have a battery operated carbon monoxide monitor or detector in your cab that sounds an alarm when CO levels are too high.
If the carbon monoxide detector goes off while you're on the road, pull over immediately into a safe, legal parking spot and exit the cab into fresh air. If you are stopped when it goes off, exit the truck and quickly move away from it. Once out of the truck, call 911 to get medical attention. You should not reenter the truck until the source of CO exposure has been determined.
On the side of caution if you exhibit any symptoms of carbon monoxide poisoning, even if your CO monitor doesn't sound you should not continue driving. In some cases, people can black out from carbon monoxide poisoning so it's incredibly dangerous for drivers to remain behind the wheel if they have been exposed to CO.
Vehicles tend to give off more carbon monoxide emission during the colder months because more fuel is required in order to start and run the engine during cold weather. Studies indicate that death rates from carbon monoxide poisoning in stationary motor vehicles are highest in states with colder average winter temperatures.
Carbon monoxide is still as deadly when the leakage or pollution is from your vehicle as it is from any other source, and without taking steps to prevent, identify and reduce this pollution you could suffer serious illness, injury or death, and if driving, Could potentially injure others.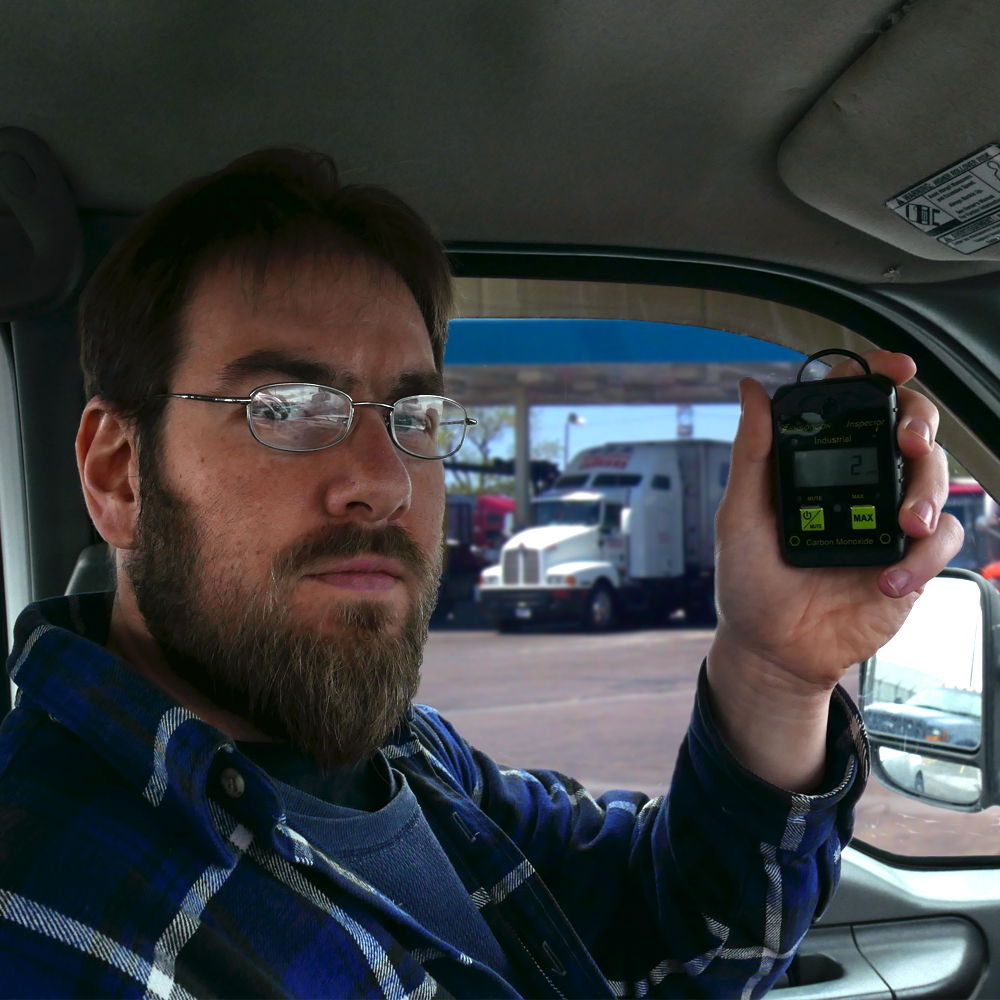 Please feel free to learn more about the effects of carbon monoxide in our online support section. There you will find useful data about the facts and myths of carbon monoxide. Also feel free to reach out to us and speak with one of our cutomer service technicians for more information.
For Sensorcon product models please refer to our interactive chart below:
Sensorcon is dedicated to creating durable, high quality environmental sensor products to meet the most demanding of domestic, professional and industrial needs. We proudly have over 10 years of experience in sensor integration and design with all of our products manufactured in the USA. In addition to this, you can easily purchase our products directly from the Sensorcon online store.
Whether its portable single gas meters to detect carbon monoxide in your home or complex PCB and sensor integrations into industrial networks. We have the experience and capability to deliver solid and reliable environmental data wherever and whenever you need it.
FOR FURTHER INFORMATION PLEASE REFER TO OUR APPLICATION NOTE:
TRUCK TRANSPORTATION AND HYDROGEN SULFIDE
For more information please contact our sales department!
Monday Through Friday - 8am to 4pm (EST)
Phone: 1-716-566-2728       E-Mail: sales@sensorcon.com      Website: www.sensorcon.com