Firefighting today is much different than it was 20 years ago. Homes were once built with hardy lumber and furnished with natural fabrics and wood. Now, almost everything is made with fibers that are petroleum based, along with plastics and glue. These new materials may be more affordable and more efficient to make, but as always there is an additional price to pay for this.  
"If you were able to choose the kind of brain injury you were to incur, it would be better in terms of the potential for recovery to have a stroke or a concussion in a motor vehicle accident than carbon monoxide poisoning."-Dr. David Penney, Wayne State University
Historically, Firefighters would go into a burning dwelling with their self-contained breathing apparatus (S.C.B.A) not connected until the last possible second to preserve air. Today, with the new materials being used in home construction, the aforementioned is not an option. Delaying or prematurely removing SCBA masks creates carbon monoxide toxicity in blood and makes extremely stressful situations for the heart. This is because the heart is pumping the oxygen deficient blood faster, while depriving the heart muscle of the oxygen needed to perform properly, and potentially causing a heart attack. Furthermore, almost half of line of duty deaths are caused by heart attacks.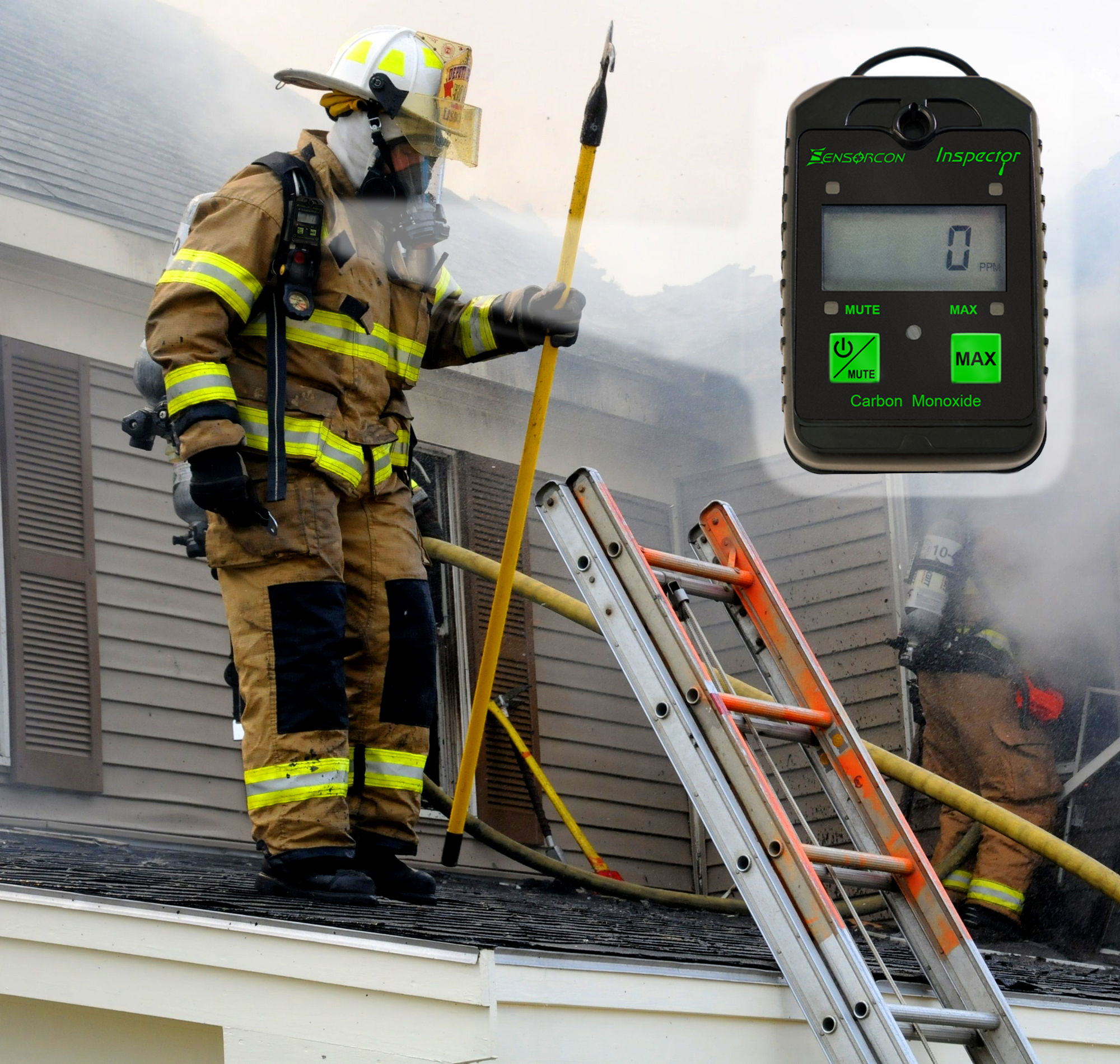 WHAT DOES OVERHAUL AND CO HAVE IN COMMON:
• Frequently ignored, the presence of carbon monoxide is still guaranteed.
• Carbon monoxide is a result of incomplete combustion of the materials used to construct the dwelling, and also from the makeup of the contents inside that often are still smoldering during the overhaul process.
• Heated fuels from the now extinguished fire are still releasing the same toxic gases during overhaul.
• Smoke that is released by any type of fire is a mixture of particles and chemicals that are produced by the incomplete burning of carboncontaining materials.
POSITIVE & NEGATIVE PRESSURE VENTILATION AND CARBON MONOXIDE LEVELS:
• Using a single exhaust fan in the fire room of a dwelling would be considered a form of negative pressure ventilation, this is because the exhaust fan is taking the air the fire needs to spread and removing it.
• Another method used is "venting" the roof by cutting a hole through the roof of the structure above the fire room. This form of ventilation is starting to be used less frequently, due to the materials used while constructing houses being less structurally sound, especially under conditions of extreme heat.
• Positive pressure ventilation is when an exhaust fan is placed to force air in the dwelling and to clear the smoke out, by means of having a window or door open on the opposite side. By doing this, harmful toxins that are being produced by the fire are forced outside into the atmosphere.
• Both forms add or remove air depending on the sough after effect. By doing either form of ventilation, carbon monoxide will be removed from the structure that is burning.
HEALTH EFFECTS OF CARBON MONOXIDE:
• All smoke contains carbon monoxide, carbon dioxide and particulate matter. Inhaling smoke for a short time can cause immediate (acute) effects.
• Smoke is irritating to the eyes, nose, and throat, and its odor may be nauseating, and can also effect lung function, this can make breathing more difficult. Two of the major agents in smoke that can cause health effects are carbon monoxide gas and very small particles(PM2.5) that are less than 2.5 microns in size, these fine particles are able to travel deeply into the respiratory tract, reaching the lungs and can cause respiratory irritation, shortness of breath, and can worsen medical conditions such as asthma and heart disease.
• Inhaling carbon monoxide decreases the body's oxygen supply, this can cause headaches, reduce alertness, and aggravate a heart condition known as angina.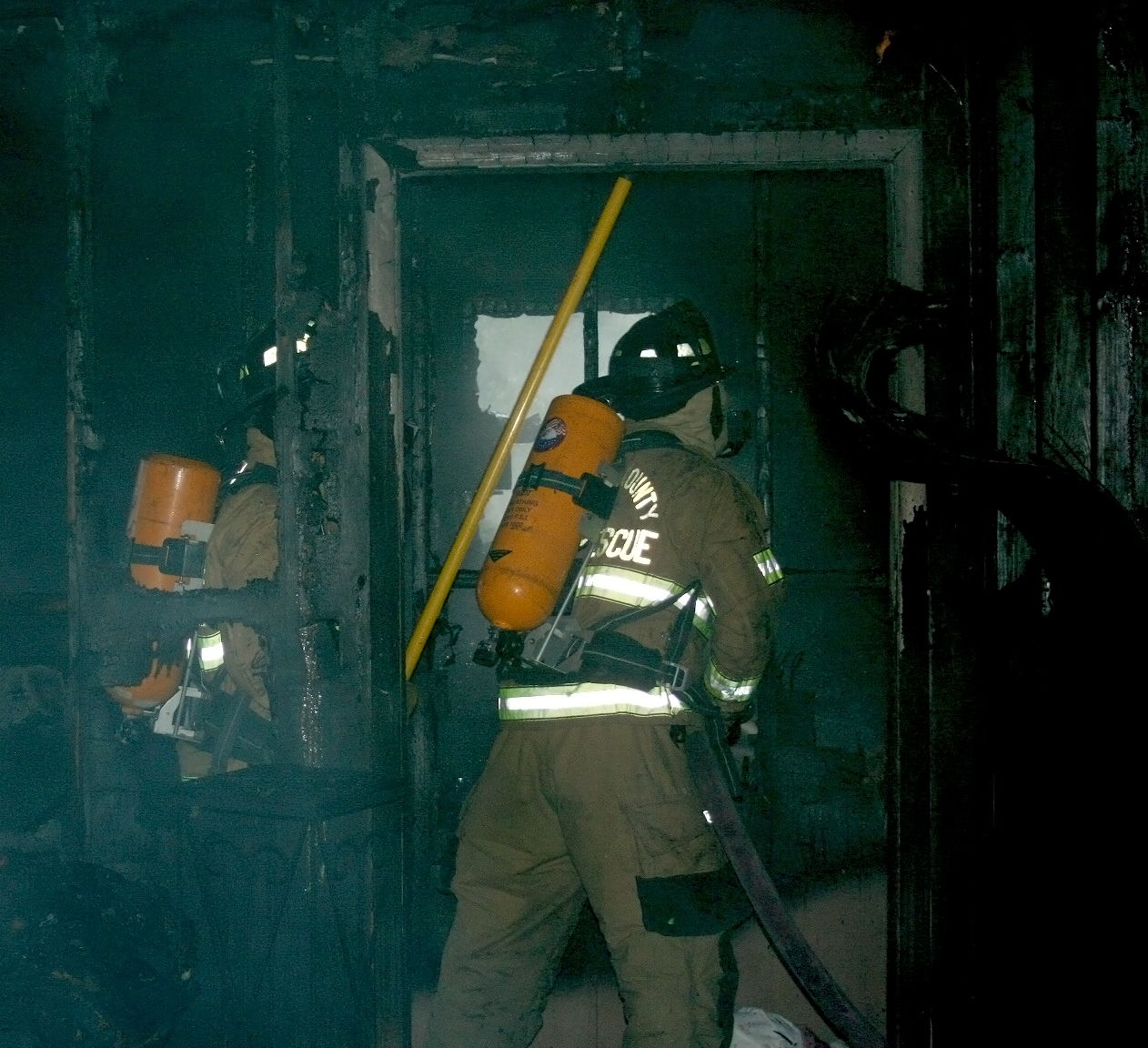 TREAT EVERY EXTINGUISHED FIRE GROUND AS IF IT IS STILL ACTIVE WHILE OVERHAUL IS STILL IN OPERATION. As long as duties are being performed on the fire scene, monitoring for levels of carbon monoxide need to still be active. The several on duty deaths that occur each year can be minimalized if the proper safety measures are taken. This includes all personnel that are subject to smoke inhalation wearing a proper carbon monoxide monitoring device with their PPE and SCBA when necessary and required for duties.
Please feel free to learn more about the effects of carbon monoxide in our online support section. There you will find useful data about the facts and myths of carbon monoxide. Also feel free to reach out to us and speak with one of our cutomer service technicians for more information.
Sensorcon is dedicated to creating durable, high quality environmental sensor products to meet the most demanding of domestic, professional and industrial needs. We proudly have over 10 years of experience in sensor integration and design with all of our products manufactured in the USA. In addition to this, you can easily purchase our products directly from the Sensorcon online store.
Whether its portable single gas meters to detect carbon monoxide in your home or complex PCB and sensor integrations into industrial networks. We have the experience and capability to deliver solid and reliable environmental data wherever and whenever you need it.
 CLICK HERE FOR A PDF DOWNLOAD OF THIS PAGE
FOR FURTHER INFORMATION PLEASE REFER TO OUR APPLICATION NOTES:
CARBON MONOXIDE EMERGENCY CALLS
ALSO PLEASE REFER TO OUR INDUSTRY SPECIFIC PAGE:
For more information please contact our sales department!
Monday Through Friday - 8am to 4pm (EST)
Phone: 1-716-566-2728       E-Mail: sales@sensorcon.com      Website: www.sensorcon.com