Hot Water Tank Application Note

For the majority of the time, your gas water heater does what it's supposed to, quietly heats the water for your house. But if it is not in great shape it could suddenly poison you or blow you up. There are actually several ways a hot water heater can be a cause of carbon monoxide in your home. Is the system is improperly installed, the vents are blocked or there are cracks in the gas valve or burner assembly, carbon monoxide could be slowly leaking into your home, causing sickness and eventually death.
EXTERNAL COPONENTS OF THE HOT WATER TANK:
Vents-Should be the same diameter as the draft diverter of the tank. The vent on the atmospherically vented water heater should generally up and out. Direst vent heater vents should go out a side wall. Power vent heater vents offer more flexibility since the fan blows the fumes out. Where it passes through walls or roofs, a vent should be double walled. Single wall vent sections should be screwed together after the pieces are joined (so they don't come apart). This also ensure a good draft to prevent back drafting.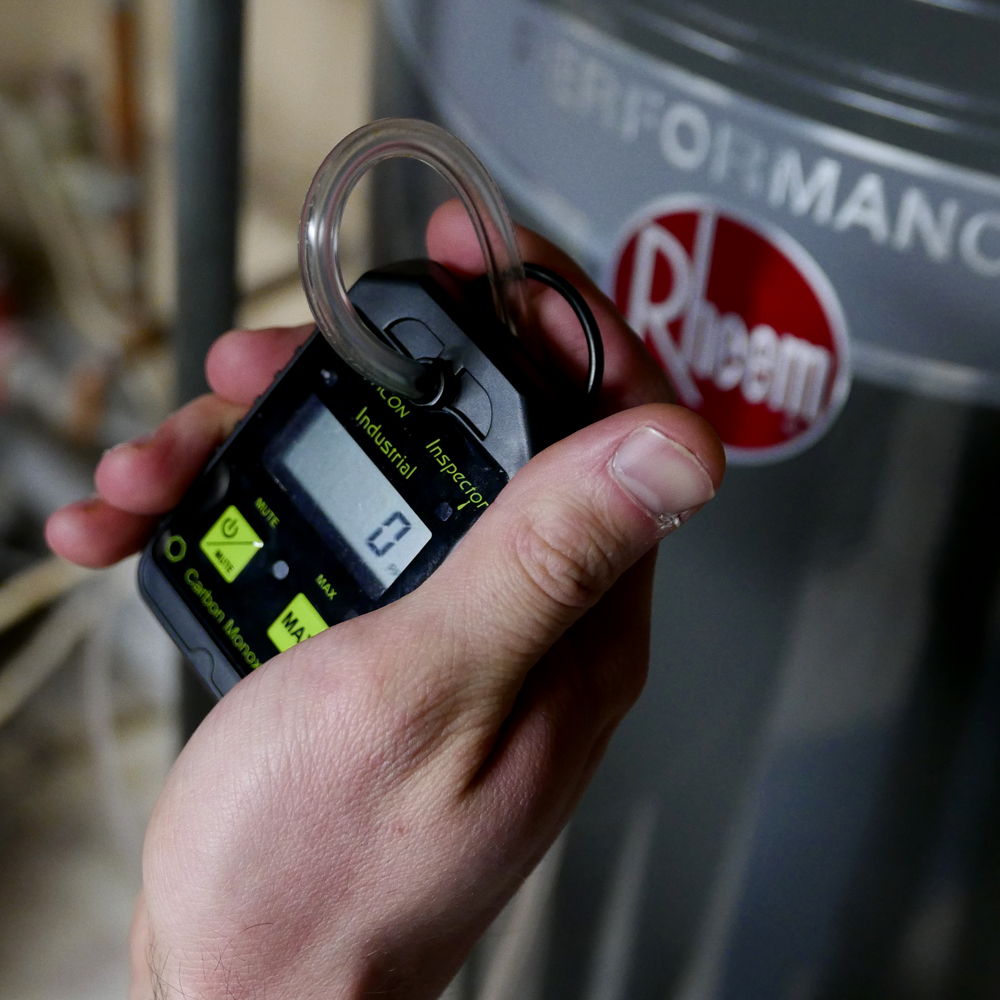 TPRV-The temperature pressure relief valve is designed to prevent a water tank from exploding if the temperature or pressure reaches unsafe limits, by opening and venting. Residential valves can be prone to failure. Yearly inspection is recommended by pulling up on the handle to make sure water flows freely and stops when the handle is let go. If this does not happen the valve should be replaced.
The Combustion chamber hatch is where determination can be made on whether or not the appliance has issues. For starters check the flame, it should be a consistent blue in color. Check the roof of the chamber and inspect to make sure it is not black, this could mean draft, combustion, or fume problems. If the roof is rusty and water marked this is also a problem.
POSSIBLE NEGATIVE SCENIARIOS:
Water Leaks-If something is going to go wrong with a water heater, it's likely to be a slow leak or a sudden bursting of the tank. A water heater stores many gallons of hot water and rusts over time. The pressure inside the tank, combined with a weakened structure due to rust, could cause a leak, and the tank could actually burst.
Fires. Gas water heaters, which use a flame to heat the water, could start a fire if vapors from nearby flammable materials like cleaning fluids, paint cans and gas cans find their way to the pilot light. Be sure to store these products far away from your water heater.
Carbon monoxide leaks. A gas water heater that has been neglected, improperly installed or poorly vented could leak carbon monoxide, which can be downright deadly. Carbon monoxide (CO) is an odorless, colorless gas produced from burning fuels. The most obvious signs that a water heater may be leaking carbon monoxide comes not from the heater but from people in the house. Headache, dizziness, weakness and upset stomach are the most common signs of carbon monoxide poisoning. Vomiting and chest pain, even confusion, also can occur, according to the Centers for Disease Control. If you suspect carbon monoxide poisoning, get out of the house immediately and call 911 or go directly to an emergency room. Tankless water heaters, which heat as needed and do not store water, are powered by natural gas or propane, so they also must be vented properly to get rid of carbon monoxide. A professional can check the ventilation for you.
PREVENTION:
Even the best-maintained water heaters will cause trouble eventually. They rust. Parts fail. The Insurance Institute for Business & Home Safety found the average life expectancy for a gas water heater to be just under 11 years. By the time a water heater had reached 12, about 75 percent had failed. Once a water heater gets more than 10 years old, it's time to be extra careful.
Maintenance-According to The National Board of Boiler and Pressure Vessel Inspectors there are some tasks a home owner can undertake to keep a water heater running as it's supposed to run, including checking that critical T&P valve.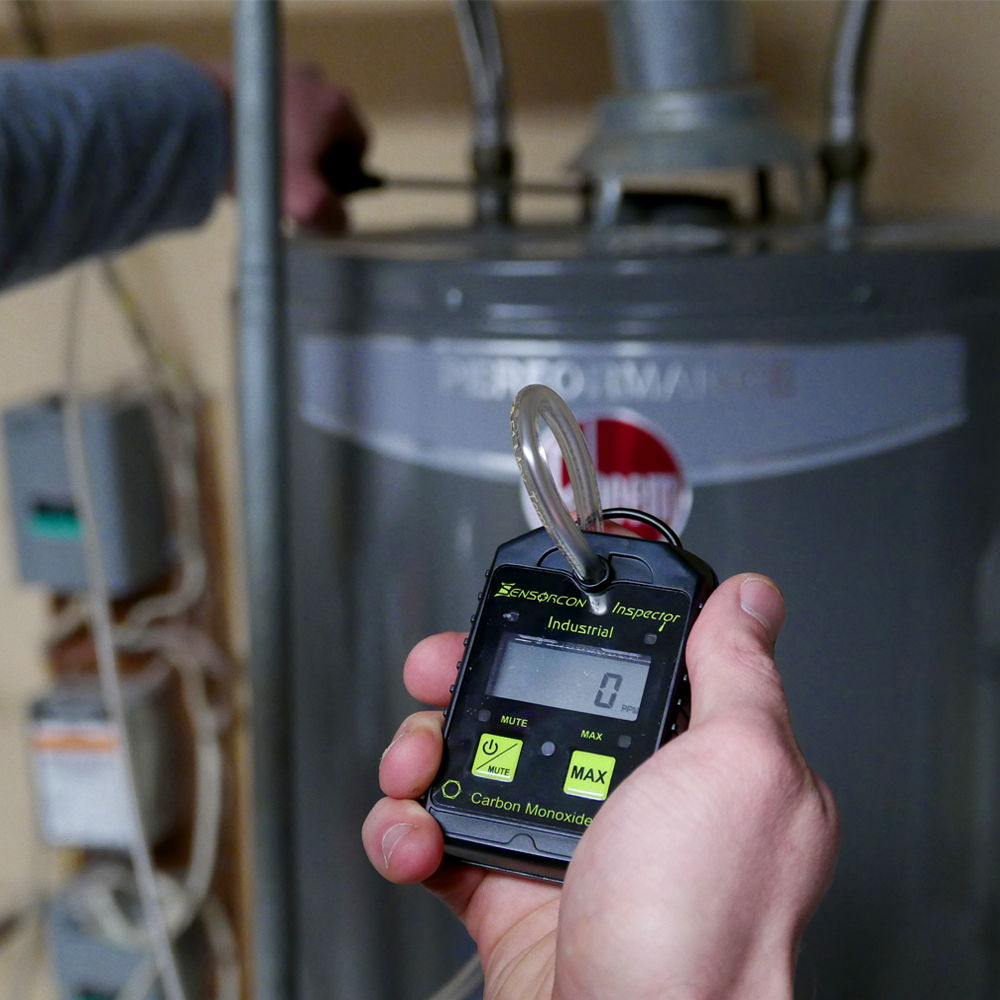 Flush it - The Department of Energy suggests flushing a quart of water from the tank every three months to rid the tank of built-up sediment.
Inspect It - Call a professional to give the water heater a checkup, and have them replace the anode rod (used to inhibit rust in the tank) every few years. None of this will keep water heaters from eventually giving up the ghost. It happens to the best of them. But it should keep yours relatively trusty and problem-free until signs point that it's time to buy a new one.
Please feel free to learn more about the effects of carbon monoxide in our online support section. There you will find useful data about the facts and myths of carbon monoxide. Also feel free to reach out to us and speak with one of our cutomer service technicians for more information.
Sensorcon is dedicated to creating durable, high quality environmental sensor products to meet the most demanding of domestic, professional and industrial needs. We proudly have over 10 years of experience in sensor integration and design with all of our products manufactured in the USA. In addition to this, you can easily purchase our products directly from the Sensorcon online store.
Whether its portable single gas meters to detect carbon monoxide in your home or complex PCB and sensor integrations into industrial networks. We have the experience and capability to deliver solid and reliable environmental data wherever and whenever you need it.
CLICK HERE FOR A PDF DOWNLOAD OF THIS PAGE
FOR FURTHER INFORMATION PLEASE REFER TO OUR APPLICATION NOTES:
GAS APPLIANCES AND CARBON MONOXIDE
ALSO PLEASE REFER TO OUR INDUSTRY SPECIFIC PAGES:
For more information please contact our sales department!
Monday Through Friday - 8am to 4pm (EST)
Phone: 1-716-566-2728       E-Mail: sales@sensorcon.com      Website: www.sensorcon.com