Today, Firefighters face many dangers while being inside of a dwelling or structure that is on fire. This is because there are more dangers that are present than you can see. Carbon monoxide also known as the silent killer, leads poisoning deaths worldwide and masquerades as a variety of medical maladies resulting in frequent misdiagnoses. 1 When fuels such as wood, composites, and furniture burn incompletely, carbon monoxide is produced into the surrounding atmosphere. Firefighters are taught that heat, oxygen deprivation, and carbon monoxide are the primary threats to life in residential structure fires, but where are the highest levels of co found?  
Floor Level: This is where the firefighter or crawling victim will be located if a house is on fire. In a study conducted by the U.S. National Library of Medicine 76% of the readings taken in a series of house fires exceeded the permissible exposure limit of 50 ppm, with the highest reading being 1,424 ppm, well above the "immediately dangerous to life and health" level of 1,200 ppm.
 Ceiling Level: It is well known that this is where the smoke collects at. In the same study all carbon monoxide readings at the ceiling exceeded the 2,000-ppm limit of the meters.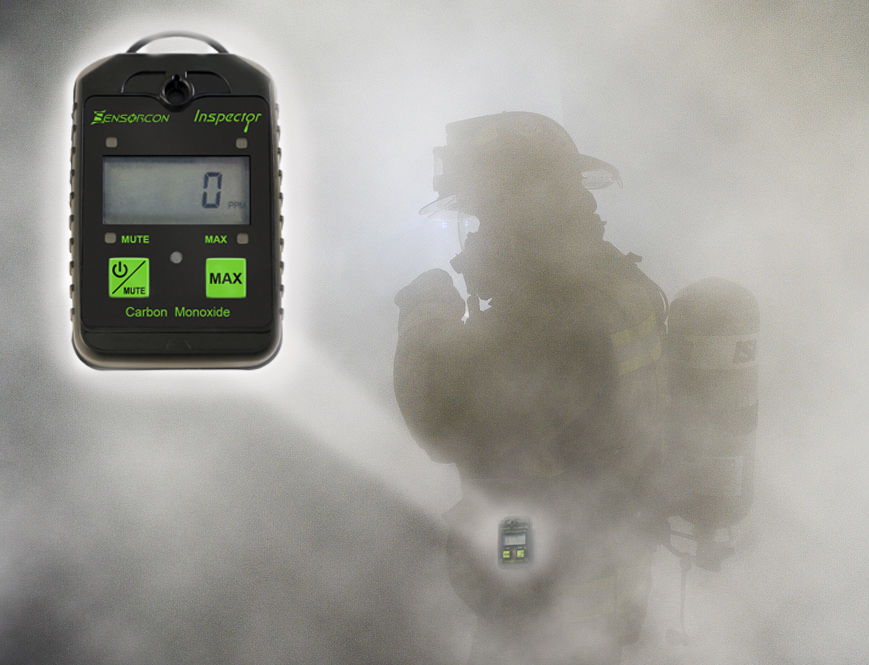 WHAT DOES FIRE EXTINGUISHMENT AND CO HAVE IN COMMON?
Frequently ignored, the presence of carbon monoxide is still guaranteed.
The highest levels of carbon monoxide occur during the knockdown phase of firefighting.
Heated fuels from the now extinguished fire are still releasing the same toxic gases during overhaul.

2

Smoke that is released by any type of fire (even after the initial fire attack) is a mixture of particles and chemicals that are produced by the incomplete burning of carbon-containing materials.
CARBON MONOXIDE AFTER THE FIRE IS OUT:
After the fire is extinguished, there is a guarantee that there is still smoke present, smoldering building materials, maybe even "hot" spots still active.
All of the aforementioned examples contain or are still emitting carbon monoxide, and at this point masks start to get taken off, NO!
The presence of carbon monoxide is as great as when the initial fire was still active, ever wonder why headaches follow your return to the station or why there is black drainage through your nose?
This is because when you take off your S.C.B.A when there is no more flame present there is still presence of chemicals like carbon monoxide in the air and particles of carbon floating around the dwelling that your breathing in without even knowing.
Having a carbon monoxide detector attached and viewable will show the levels that are still present.
We all know that fire needs 3 critical ingredients to continue burning, but carbon monoxide weighing almost the same as air (that the fire needs) will easily mix and make a non-safe atmosphere.
When the fuel that is feeding the fire is extinguished the incomplete combustion is still emitting toxins and suffocating at the same time.
In relative terms, fire is easier to extinguish than high levels of carbon monoxide. This toxin will still be present after the cause(fire) is not. Proper time and ventilation will solve this problem.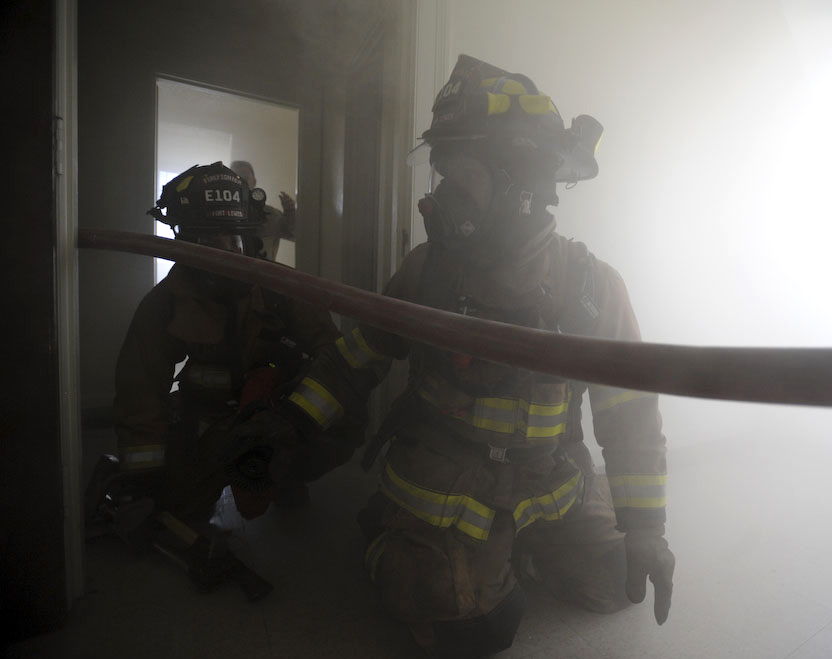 TREAT EVERY EXTINGUISHED FIRE AS IF IT IS STILL ACTIVE.
As long as duties are being performed on the fire scene, monitoring for levels of carbon monoxide need to still be active. The several on duty deaths that occur each year can be minimalized if the proper safety measures are taken.  
P.P.E. S.C.B.A CO DETECTOR MANDITORY TOOLS WHILE FIRE EXTINGUISHMENT IS BEING PERFORMED.
This includes all personnel that are subject to smoke inhalation wearing a proper carbon monoxide monitoring device with their PPE and SCBA when necessary and required for duties. You wouldn't enter a fire with no helmet! So why wouldn't you want to protect yourself against the invisible dangers as well. One the devise is attached to a turnout coat, P.A.A.S. alarm strap it can be turned on and leaved on without fear of the battery going dead.
Please feel free to learn more about the effects of carbon monoxide in our online support section. There you will find useful data about the facts and myths of carbon monoxide. Also feel free to reach out to us and speak with one of our cutomer service technicians for more information.
Sensorcon is dedicated to creating durable, high quality environmental sensor products to meet the most demanding of domestic, professional and industrial needs. We proudly have over 10 years of experience in sensor integration and design with all of our products manufactured in the USA. In addition to this, you can easily purchase our products directly from the Sensorcon online store.
Whether its portable single gas meters to detect carbon monoxide in your home or complex PCB and sensor integrations into industrial networks. We have the experience and capability to deliver solid and reliable environmental data wherever and whenever you need it.
CLICK HERE FOR A PDF DOWNLOAD OF THIS PAGE
FOR FURTHER INFORMATION PLEASE REFER TO OUR APPLICATION NOTES:
CARBON MONOXIDE EMERGENCY CALLS
ALSO PLEASE REFER TO OUR INDUSTRY SPECIFIC PAGE:
For more information please contact our sales department!
Monday Through Friday - 8am to 4pm
Phone: 1-716-566-2728       E-Mail: sales@sensorcon.com      Website: www.sensorcon.com